Solar Plan Placard, Various Sizes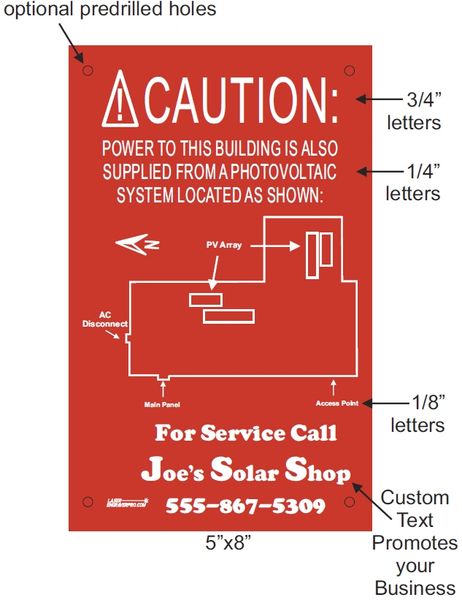 Solar Plan Placard, Various Sizes
Outdoor, 1/16" UV rated placard for solar installations.
We can make just about any size with any text and graphics you might need, dont see what you need, please ask.

Comes with 3M VHB tape or add holes and you will get pop rivets with your order.
Starting at $29.00, see drop down for pricing, Text size and layout as shown unless you specify otherwise.

I will need a simple line drawing of the installation (hand drawn is ok), showing the location of the array(s), disconnects, breakers, and any additionl information you would like on the placard. Provide the address and I will google map the house and draw an accurate plot plan, saving you time. Click HERE to upload or email this information to info@laserengraverpro.com
A proof will be provided in PDF form, for your approval.
Typical lead time is 2-3 days, if you need it quickly please let me know.

TERMS:
Note: Authority Having Jurisdiction (AHJ), commonly the electrical inspector, has final approval of wording and can require different wording to fit unique local requirements or unusual installations. We will accept returns of stock labeling that will not work with local codes for credit or refund, custom placards are not returnable.
Here are our standard prices for custom placards.